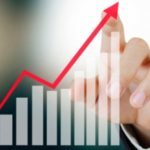 Fannie Mae increases economic growth predictions for first time in 2017 | HousingWire
Fannie Mae increases economic growth predictions for first time in 2017
Forecast increases despite uncertainty following hurricanes
After the
Bureau of Economic Analysis
increased
the second quarter gross domestic product to 3%,
Fannie Mae
pushed up its full-year growth forecast for the first time in 2017.
The company increased its growth forecast to 2.2% for 2017, up from its previously forecasted 2%, according to the Fannie Mae Economic and Strategic Research Group's September 2017 Economic and Housing Outlook.
"For the first time in 2017, we have increased our full-year growth outlook," Fannie Mae Chief Economist Doug Duncan said. "The upgrade reflects economic activity gaining momentum at the end of the second quarter, though we see a great deal of uncertainty surrounding the forecast."
"The list of uncertainties now extends beyond the geopolitical and legislative, as the effects of Hurricanes Harvey and Irma will require time to untangle," Duncan said.
This increase is despite the rising economic uncertainty caused by Hurricane Harvey which hit South Texas and parts of Louisiana and Hurricane Irma, which swept through Florida. Geopolitical and trade uncertainties also pose downside risks to economic growth.
Goldman Sachs recently explained the hurricanes could have a significant downward pull on GDP, but that it would quickly bounce back from the drop.
Read more at Fannie Mae increases economic growth predictions for first time in 2017 | 2017-09-15 | HousingWire